What We Do:
Elite Trader helps brokerage firms, funding sources, software companies, education providers and other organizations gain more customers by exposing their products and services to our community of active traders of Stocks, Options, Futures, Forex and Cryptos.
What We Don't Do:
We do not participate in affiliate programs or ad networks. We only work directly with advertisers that have a dedicated monthly advertising budget.
The Question We Are Asked Most Often:
Can our company promote our services and interact with your members through the posts we submit to your discussion forums?
Yes... But only if your company has purchased a Vendor Account, which is a business membership that authorizes you or another employee to be an official representative of your company on our site. To qualify for a Vendor Account,
click here to complete the required application form
.
Your Point of Contact: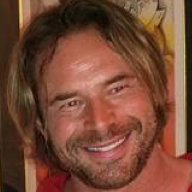 Baron Robertson
407-230-9956
baron@elitetrader.com
HOMEPAGE SPONSORSHIP
This opportunity is the best branding real estate that you can get on ET.
Your ad is strategically surrounded by our content links, giving it as much visibility as possible. This spot is not exclusive but we do guarantee a minimum exposure level of 50,000 impressions per month.
Dimensions: 300 x 600 (w x h)
File Type: GIF, PNG or JPG
Max File Size: 200KB
Animation: Not Allowed. All ads must be static.
Cost: $2,895 per month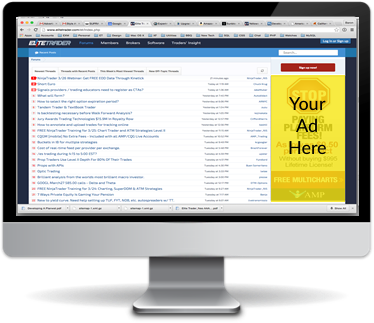 FORUM SPONSORSHIP
Elite Trader is a collection of individual discussion forums, with each one focusing on a specific area of trading.
Each of our forums can be sponsored, which means that your ads will appear at the top of every page of discussion within the forum you sponsor.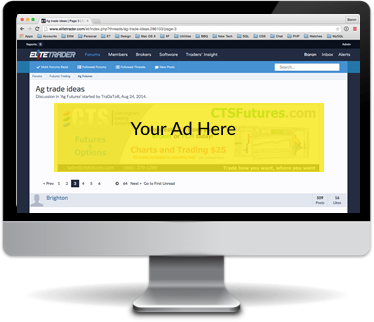 The key thing to understand about a forum sponsorship is that it's exclusive, so once you sponsor a forum, no other company can take that space from you for as long as you remain a sponsor. The downside is that we have a limited number of forums that can be sponsored. That's why it's important to act now if you see an available forum that suits your business.
As a value add, we take the ads you submit for a forum sponsorship and also run them in any of the unsponsored forums to give you some site-wide exposure at no additional cost. This "run-of-site" exposure is done on a rotational basis with ads submitted from other sponsors.
Dimensions: 970 x 250 (w x h)
File Type: GIF, PNG or JPG
Max File Size: 200KB
Animation: Not Allowed. All ads must be static.
Forum
Monthly Rate
Availability
Trading
$3,310
Sponsored by
TradeZero
Journals
$2,857
OPEN
Wall St. News
$1,878
OPEN
Economics
$717
OPEN
Stocks
$1,332
OPEN
Options
$2,365
OPEN
ETFs
$412
Sponsored by
ninZa.co
Fixed Income
$378
OPEN
Index Futures
$1,260
Sponsored by
Ironbeam
Commodity Futures
$923
Sponsored by
Cannon Trading
Financial Futures
$770
Sponsored by
AXIA Futures
Forex
$1,515
OPEN
Cryptocurrencies
$3,887
Sponsored by
YouHodler
Order Execution
$897
Sponsored by
Databento
Automated Trading
$1,950
Sponsored by
Rithmic
Technical Analysis
$1,882
OPEN
App Development
$638
OPEN
Strategy Building
$1,107
OPEN
Risk Management
$847
OPEN
Trading Psychology
$1,045
OPEN
Retail Brokers
$1,673
Sponsored by
AMP Futures
Prop Firms
$1,971
OPEN
Forex Brokers
$773
OPEN
Trading Software
$2,732
Sponsored by
NinjaTrader
Data Sets and Feeds
$608
Sponsored by
Polygon.io
Networking and Security
$575
OPEN
Hardware
$630
OPEN
Educational Resources
$1,425
Sponsored by
AXIA Futures
Professional Trading
$1,628
OPEN
Taxes and Accounting
$853
OPEN
DEDICATED EMAILS
If you're promoting a time-sensitive event or special offer, we can send a dedicated email on your behalf to our subscriber list of 48,000+ traders.
We generally wait one week after the mailing is sent to send you the performance metrics.
Email Format: HTML
Also Needed: Subject Line for the Email
Lead Time: 2 Days
Cost: $999 per Mailing
Availability: Inquire to set up mailing date and time.
Metrics from Recent Mailings:
Delivered
Unique Opens
Unique Clicks
48,694
3,961
195
48,952
2,912
369
49,739
2,284
219
49,570
2,510
277
50,396
3,794
449
Average Shown Below:
49,470
3,092
302
If you're ready to move forward or if you just have questions or need more information, simply reach out to Baron Robertson by phone at 407-230-9956 or by email to baron@elitetrader.com.